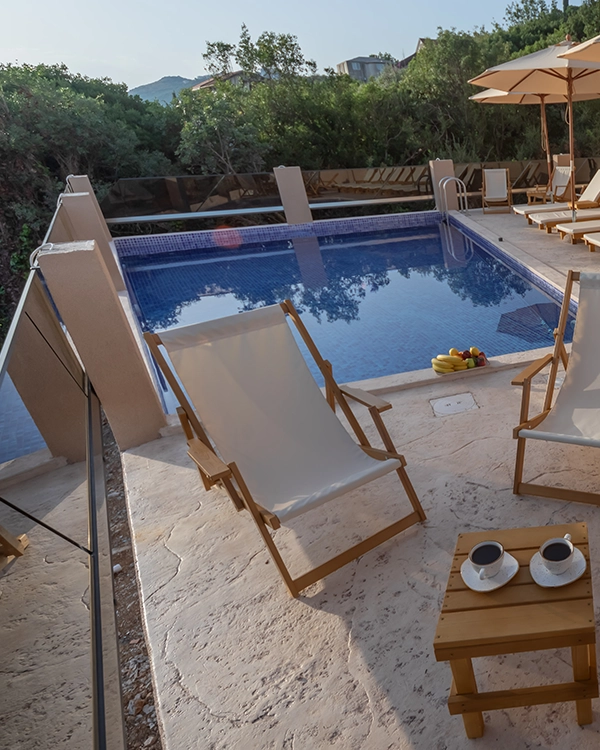 About hotel
Hotel Diman
DIN_IMAN d.o.o. Bijelo Polje is a company that opens a 4-star hotel with smaller capacity, good service and unique experience.
That is precisely the experience of stay that should be emphasized, offered as a benefit, attract guests and differentiate this hotel accommodation compared to others. What do we mean when we say experience?
Dobra Voda, thanks to its geographical position "between the mountains and the sea" and a very favorable climate, is also called an air spa. As such, it is an ideal place for family vacations for people with children. The hotel itself is "tucked away" right between the sea and the hills, which gives it numerous advantages, among which the most important is PEACE. The hotel opens with the idea of being a family business with all the values that this type of business carries with it: authenticity, trust, dedication, warmth, stability, pride, common goals and energy, inclusion of generations and respect for the wider community. In fact, that's exactly what family members are looking for and expecting from vacations. So... FAMILY.
Welcome to Hotel Diman
Enjoy with your
family.
Luxury hotel
Luxury rooms
Hotel Diman
Benefits
Private Parking
The hotel has a private parking exclusively intended for guests, with 24-hour video surveillance.
High-speed Wifi
Wireless internet is available to everyone in the entire hotel completely free of charge.
Bar
Our bar is a great place where you can enjoy your cocktail before or after dinner.
Climate
The hotel is equipped with state-of-the-art technology and the latest air conditioning.
Restaurant
On the menu is a large selection of seafood dishes, as well as specialties of national cuisine.
Room service
If you want to have your first morning coffee in your room, room service is also offered.

Family rooms
The rooms are equipped to provide guests with comfort and are a great place to relax.
Beach
The hotel is away from the most beautiful beach in Dobra Vode only 400 meters.
Enjoy the Luxury Hotel Diman.
National cuisine
Restaurant
Let your day begin in our modern restaurant, with subtle splendor and elegance. If you want to be alone and enjoy, give a surprise to your loved one, spend time with family or friends our restaurant is ideal for you. We have prepared special menus for all kinds of occasions. Our team of chefs will do their best to surprise you with the quality, taste and creative arrangement that leaves you breathless and our masterful bartenders and waiters will welcome you with a smile and professionalism to make your stay unforgettable.
The most beautiful summer resort in Montenegro
Dobre Vode
This beautiful bay is located between Bar, from which it is only a few kilometers away, and Ulcinj. Dobre Vode is the largest tourist resort in this part of the Montenegrin coast. It is ideal for holidays, especially with family. However, even the younger population will not remain indifferent, because there are bars and discotheques for an exceptional night out. Good Waters are also called "air spa". It is known that in this place intersect different winds from the mountain and the sea, which are especially suitable for people suffering from asthma, bronchitis, and other respiratory diseases.
Reviews
What do our guests say?
Address

Street number 60
Dobre Vode

Email

Phone Number

067 354 638
Mon - Sun 24h
Book a room
Book your room on time, fill out the form and see if your desired date is available. Shortly after your message, someone from the hotel will let you know.